The Muppets' Show - The Next Incarnation
Muppets!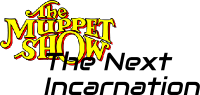 Read Online
Sources
Suitability
This work was enjoyed by people who were only familiar with either the Fountainhead or the Friends T.V. show.
Licensing
All the text is original, and as far as I'm concerned can be used under the terms of the Creative Commons Attribution-Noncommercial-ShareAlike licence Unported (CC-by-sa), either version 4.0, or at your option any later version, but like I said, the situation is more complicated than that.
See Also
Credits
Friends Fountain Image
The Friends' fountain image that serves as the logo was taken from the "Friends Opening (HD)" video-clip on YouTube at approximate time 0m40s.
One can find the intermediate images in a GitHub repository.