The Muppets Show The Next Incarnation - With Summer Glau and Chuck Norris
Muppets!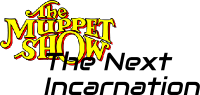 The Muppets' Show (The Next Incarnation) With Summer Glau and Chuck Norris
About this screenplay
[ The Muppets' Show (The Next Incarnation) With Summer Glau and Chuck Norris
Note: This screenplay was written by Shlomi Fish, and is original artwork. ]
[ Abstract: Chuck Norris (ChuckN) and Summer Glau (SGlau) are the guests of the Muppets' Show as two ruthless Grammar Nazis who aim to unite Grammar Europe under the reign of the Grammar Third Reich. Also crossover of xkcd: "Venting" and Chuck Norris Facts. ]
"Meet Chuck"
[ The Muppet Show Theatre backstage. Kermit and Fozzy are there.
ChuckN enters through the door. ]
[ SGlau jumps from above the frame to the upper row and then down to where Kermit and Fozzy are standing. Applause. She is wearing a grey, military-style vest with a zipper at the front. ]
[ Miss Piggy is walking along the upper row with a fellow pig. ]
[ A shot sounds and Miss Piggy's hat is blown away. Cut to SGlau, who is holding a gun in her left hand. ]
[ They go out of the frame. ]
Kicking ass Grammar Nazi Style
[ Congregation of evil muppets (including the Moopets) with Grammar Nazi uniforms. SGlau and ChuckN are on the stage.
SGlau fires a gun in the air. The room falls silent. ]
[ The Grammar Nazi muppets respond. ]
[ "Hail Grammar" from the audience. ]
[ Sudden quick shots as someone shoots all the guns out of SGlau and ChuckN's hands and those of the rest of the Grammar Nazi muppets. ]
"Can't touch her [Stop! Summer Time]"
"Venting Is Us."
[ A modern tech office whose door says: "Venting is Us." with a large version of xkcd: "Venting". ChuckN and SGlau are sitting inside. ]
[ A few muppets who look like Mafios storm in. ]
[ ChuckN and SGlau quickly raise their hands. ]
[ Cut to the new office with a new sign of "Don't be venting - be perfecting." ]
Having some fun with company.
[ Kermit, ChuckN and SGlau are sitting together. ]
[ Animal starts playing the drums and shouts "Carpe Diem!". SGlau opens her jacket's zipper to reveal a T-shirt with the "Useless" xkcd comic and they all start singing "7 Minutes" by Caitlin Hart, along with Hart, the Mafios, Lucky Luke, the Grammar Nazis, the Head Mafio's niece and her friends. ]