The Pope Died on Sunday
And so starts what appears to be an ordinary week… or not!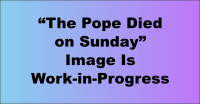 Abstract
Rachel Southern, an American graphic artist who lives and works in Milwaukee, did not expect the week following the death of the Roman Catholic Pope to be particularly notable for her, but boy was she wrong!
From meeting a guy she really liked, to her best friend almost ruining a date with him, to her family coming to visit, to helping organise a "fashion-play", to pondering the answer to the question of Life, the Universe, and Everything — Rachel's week proved to be one of the most hectic in her life.
This story is still incomplete, and only a relatively small part of it has been written.
Text of the Story
English Text
Hebrew Text
Source Repository
See Also
Old Notes
Note for 3-April-2005: This story is unrelated to the recent death of Pope John Paul II. I wrote most of what you can find here several years ago . Here's my first announcement of its writing. It's not finished yet.