The One with the Fountainhead - Part 1
The Fountainhead may have been good enough in the 60's, but we're in the Information Age now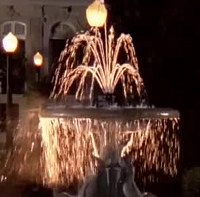 Abstract
A parody of Ayn Rand's novel, The Fountainhead, modelled around a two part episode of the Television sitcom show Friends. Somewhat unhappy with the original book, the six friends in the show role-play their own version of The Fountainhead, while trying to improve upon it. Will they succeed?
What was the photo of the Parthenon replaced with?
Why was Chandler happy to play Peter Keating?
Which element is featured in every second-rate romantic novel?
Which piece of advice did Toohey give Dominique Francon?
Why did cruising with Gail Wynand turn out to be a bad idea?
And who were the bad guys in the story?
Read the screenplays to find out.
The One with the Fountainhead - Part 1
[ Note: This is not a real Friends episode, but one written by Shlomi Fish. Being Friends fan-fiction, Fish disclaims all copyright claims to some of the characters and concepts presented here. This work also serves as a parody of the book The Fountainhead by Ayn Rand, which is also copyrighted, and the characters and concepts from it belong to the Ayn Rand estate. ]
Joey Reading the Fountainhead
[ The girls' apartment: Ross and Chandler are by the chair watching T.V., Joey is reading a book on the sofa. Monica is at the counter, preparing food. Rachel is sitting on a stool by the counter. ]
Let's role-play our own version
[ The screen becomes liquid-like and blurry to indicate an imagined sequence. Then: a dramatic music is heard and a black and white screen appears with the title The Fountainhead and several building around. The slide changes to "Starring: Chandler Bing, Phoebe Buffet, Monica Geller". ]
Roark Quitting Stanton Tech
[ The screen changes to a long shot of a provincial university and then the dean office is shown. The dean is standing in the middle holding one picture in each one of his hands.
Ross enters the room in informal clothes, and with an Orange-colored hair. ]
[ Cut to the girls' apartment. ]
[ Cut to the dean office ]
Roark and Keating Planning Their Future
[ Roark leaves the room, and on his way out meets Chandler who is wearing a black graduation cloak. ]
[ Cut to Roark and Keating ]
Catherine and Toohey
[ The door is ringing. Toohey (depicted by Mr. Heckels) goes to open it. Catherine (Phoebe in a casual dress, made to look very young) is standing behind it. ]
Meet Cameron
[ Cut to Cameron's Office door. Roark and Keating arrive there after climbing the stairs. ]
[ Roark opens the door and they both enter. Cameron (depicted by Mr. Geller) is sitting at his desk looking at a design. ]
[ Keating shrugs, and smiles stupidly. ]
Book Discussion about Jane Eyre
[ Cut to Catherine's apartment. She is hosting a book discussion with many of her female friends. Sophie (depicted by Bonnie, the friend Phoebe fixed up with Ross) with long blonde hair and looking in her prime is there. ]
[ There's a knock on the door and Catherine rises to answer. It's Peter. ]
[ Cut to end of the discussion. ]
[ Short pause. Catherine lowers her look and look around nervously. ]
Enter Dominique
[ Cut to an office desk. ]
[ The camera zooms out to reveal Dominique (depicted by Rachel) organising her desk. Cut to Monica and Rachel's ]
[ Cut to Dominique's office. Toohey approaches. ]
Dominique Seducing Roark
[ Cut to Roark's house. He is sitting at a desk at the back of the frame, hears a door bell, opens the door. It's Dominique. ]
Dominique Telling Toohey about her Love Life
[ Cut to Dominique's office. She is talking to Toohey ]
Sophie's sex advice.
[ Cut to the arbour of Sophie's mansion. Sophie is sitting on a chair next to a glass table. She is reading a book. The New-York Banner is laid on the table. Sophie is dressed in a light but very chic and elegant dress. Catherine enters, dressed much more plainly and in less style. ]
[ Catherine sits next to her, and sighs. ]
Catherine at Keating's Office
[ Cut to Peter's office entrance. ]
Sophie about Gail Wynand
[ Cut to Sophie's house. Catherine and Sophie are sitting there talking. ]
[ Cut to Monica and Rachel's ]
[ Cut back to Sophie's House ]
Catherine boarding an aeroplane
[ Cut to an airport. Catherine is wearing a pilot's jacket and is walking forward. Sophie is besides her. ]
[ Cut to the aeroplane. There's a pilot in the front seat. Catherine is seating in the back. ]
[ The engine stops hissing. ]
[ Cut: Catherine's parachute falls down. Gets stuck on a date tree and Catherine falls down into a greenery field. ]
Meeting Gail Wynand
[ Cut to another place in Jamaica. Roark and Keating enter the frame. ]
[ Cut to Monica and Rachel's ]
[ Catherine approaches them, she's very unkempt, very angry. ]
[ Roark leaves the frame. Wynand signals a local to come over. ]
Roark meets Dominique in Jamaica
[ Cut to construction site. Roark is there, as well as many Jamaicans who are in the midst of building his building. ]
Wynand's Offer
[ Cut to a restaurant. Everybody is sitting there, dressed in a light but elegant way. ]
[ Roark and Keating look at each other, buffled ]
Stranded on the Deserted Island
[ Cut to the beach of a Caribbean island. The girls are sitting on the sand, the boys are standing to the left, a little farther from the water. ]
[ They wander off and continue arguing. Cut to the Fountain-girls ]
[ Cut to the fountain-boys. ]
Joey Needs to Go
[ Cut to Monica and Rachel's. ]
What did Ayn Rand do afterwards?
[ Cut. End Credits. Phoebe is sitting on the couch reading The Fountainhead. ]