Emma Watson's Visit to Israel and Gaza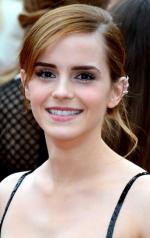 Emma Watson is a 1990-born British actress and model, who rose to fame playing Hermione Granger in the Harry Potter films, and (quoting from the Wikipedia page):
In October 2013, she was voted Sexiest Female Movie Star in a worldwide poll conducted by Empire magazine. In May 2014, BuzzFeed dubbed her the "most flawless woman of the decade".
Now the question is: what will happen if she decides to visit the Gaza envelope and the Gaza strip?
Text
Emma Watson visit to Israel and Gaza.
[ This is fictional Real person fiction starring Emma Watson and other real people, and did not actually take place. Whether it will actually materialise remains to be seen.
The year is 2014. Emma Watson - a British actress who rose to fame after playing Hermione Granger in the Harry Potter films - graduated from Brown University with a degree in English Literature and became a UN Women Good Will Ambassador. Shortly after the August 2014 celebrity photo leak, she arrives at Ben Gurion Airport in Israel. ]
At-the-Passport-Verification
Getting a Ride
[ Showing EmWatson's Smartphone on Twitter she types there - "Visit to Israel Begins. GPS coordinates in RT at emw.tld. Sderot, here I come!", and sends it. ]
[ She approaches a taxicab driver. ]
At the Gas Station
[ The taxicab stops. EmWatson and the driver go out. ]
[ Cut to them sitting eating. ]
[ A waitress approaches EmWatson ]
[ The Waitress and the Driver burst out laughing, EmWatson joins them. ]
Entering Sderot
[ The taxicab enters Sderot where there are some people waiting. ]
[ EmWatson gets out of the cab, gives the cab driver the money, the photograph, and a souvenir, takes a photo with him using her digital camera, shakes his hand, says "Good bye" and part ways. ]
[ Some laughs and cheers from the audience. ]
At the Restaurant
[ EmWatson, the Mayor, and some other people are sitting at a restaurant. EmWatson is wearing a "I ♥ Sderot" shirt. ]
The Basketball Game
[ EmWatson is watching the basketball game still wearing the "I ♥ Sderot" shirt. ]
[ Yuval uses his phone and types. A beep sounds. ]
Coverage
Links
Emma Watson Links
Political Stories and Essays
TODO Fill in.
Copyright and Licence
This document is Copyright by Shlomi Fish, 2014, and is made available under the terms of the Creative Commons Attribution Noncommercial ShareAlike License 3.0 Unported (or at your option any later version).
For securing additional rights, please contact Shlomi Fish and see the explicit requirements that are being spelt from abiding by that licence.
What other people are saying