Google Announced It Will Discontinue Its Web Search, Gmail And Google Docs Services
1 April, 2014, Tel Aviv, Israel: Google announced today that following its popular decision to discontinue not-so-popular services such as Google Reader, it is going to discontinue other services such as Google Web Search, Gmail, and Google Docs.
"These services have been suffering from declining use and popularity", a Google spokesman said, "as a result, Google decided to discontinue them in order to remain profitable."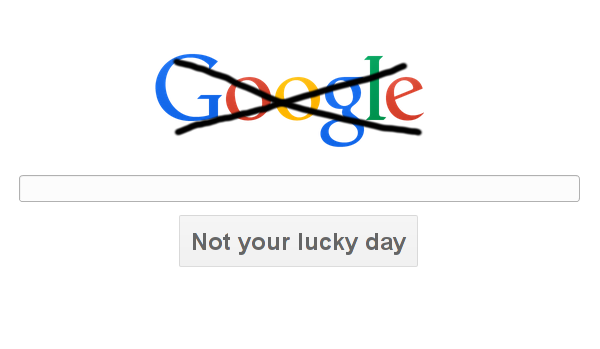 The New Google Web Search front page.
After discontinuing these services, Google will focus on more profitable ventures such as version 9 of V8, its open-source JavaScript engine (= "v8 v9"), and its mobile operating system, Mandi the Womanoid. It is also going to provide its world-famous customer service as a service to other companies ("Google Customer Service as a Service" or "GCSaaS" for short).
The same Google spokesman also noted that Google is considering to discontinue Google AdSense and AdWords, because they too are proving to undermine its profitability.
Copyright and Licence
This document is Copyright by Shlomi Fish, 2014, and is available under the terms of the Creative Commons Attribution-ShareAlike License 3.0 Unported (or at your option any later version).
For securing additional rights, please contact Shlomi Fish and see the explicit requirements that are being spelt from abiding by that licence.
The homepage screenshot was adapted from the Google homepage, with the sources available.