NSA Facts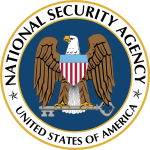 The NSA is the United States' National Security Agency, a cryptologic intelligence agency. These facts show why the NSA is a paper tiger, and a money sink, and why it should not be feared.
NSA Facts
The NSA don't publish. They perish.

The NSA employs the largest number of mathematicians with Ph.Ds. And the most stupid and incompetent ones.

The NSA has a patent for an efficient process for collecting a lot of information and doing nothing with it.

The Bajoran scholars have positively identified Benjamin Sisko as The Emissary. They also positively identified the NSA headquarters as The Dungeon.

One of Buffy the Vampire Slayer's episodes took place in the NSA headquarters, but had to be destroyed, because all of the test audience had uncontrollable panic attacks.

The NSA knows what you did last summer. But no one, in the NSA or outside it, knows why they should.

The more the NSA think, the less they want to be able to think. So they think less and less.

With the NSA's budget you would expect evil to be extinct by now.

Think of the most incompetent organisation possible. The NSA would be even more incompetent than that.

The NSA headquarters are the unhappiest place on Earth.

Yogurt: "Never overestimate the power of the NSA."

First the NSA ignores "silly" Internet memes, then they laugh at them, then they are unable to fight them, and then they lose.

The NSA is an intelligence agency which thinks it can use Artificial Ultra-Stupidity (AUS) to wade through tons of irrelevant information and reach genuine understanding.

Your next job after one in @NSACareers, will be as a dead corpse in a coffin, 6 feet underground, or as a patient in a psychiatric ward.

Hackers bend the rules, so the NSA hates them. Instead, the NSA accumulates rules, observes them, and accepts their fate: death.

No one in their right mind will want to work for the NSA. Fortunately for the NSA, and unfortunately for us, some people are not in their right mind.

Don't worry about what the NSA knows about you. They don't tell anything they know to anyone.
ה-NSA מעסיק את המספר הרב ביותר של מתמטיקאים בעלי דוקטורט. ואת הטפשים ביותר וחסרי היכולת ביותר מביניהם.
Copyright and Licence

This document is Copyright by Shlomi Fish, 2013, and is available under the terms of the Creative Commons Attribution License 3.0 Unported (or at your option any later version of that licence).
For securing additional rights, please contact Shlomi Fish and see the explicit requirements that are being spelt from abiding by that licence.
Links
TODO
See Also